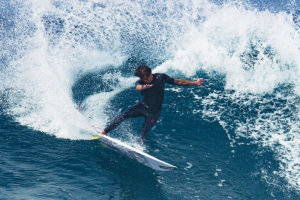 Albee Layer is truly one of a kind. Hailing from Maui's North Shore, he is a boundary-pushing charger who has flipped the script on the sport of surfing in both big and small waves in his quest to evolve the sport. Whether you catch him blasting airs in a wave pool or charging massive waves at Jaws, Albee's incredibly progressive, go-for-broke style is as authentic and raw as it gets, producing content that is true to his opinionated, passionate heart.
Not every surfer will have the skills and opportunity to pioneer a new aerial maneuver and land in the NY Times Sports Section, only to have it be publicly dissected by the Action Sports Elite including Tony Hawk and Kelly Slater. Albee has the vision and talent to continue progress the sport of surfing, but it is safe to say he'll be doing it on his own terms.
" I admire their commitment to a high quality product at a reasonable price, especially when it comes to the benefits of CBD to support athletic recovery. "
FULL SPECTRUM CBD INFUSED SOFTGELS – 30MG – 30 COUNT
Our 30mg Full Spectrum CBD Infused Softgels give you the relief you need without the mess or hassle of oils. No mixing, no measuring, no worries. Our Full Spectrum CBD Infused Softgels are great for on-the-go types and those who don't want to be bothered with complicated or lengthy preparations.