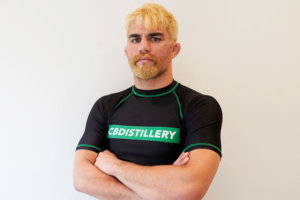 Garry Tonon (MMA 5-0, BJJ 64-23 Black Belt) is a 2x ADCC vet, World and Pan American Champion and 5x EBI Champion. In 2017, Garry transitioned from Brazilian Jiu Jitsu to Professional MMA, finishing his each of his opponents in his first 5 matches. Garry is one of the most exciting submission grapplers in the world, having won the award in 2017. He has fought in all weight classes and always pushes the action. He is an original member of the prestigious Danaher Death Squad of the Renzo Gracie Academy in New York City and was inducted into the New Jersey Martial Arts Hall of Fame in 2018. He is incredibly excited to be representing CBDistillery's world class grappling team in the upcoming Abu Dhabi Combat Championships in 2019.
" Grappling is one of the most strenuous sports there is, I have to do everything in my power to recovery properly and quickly to get through my training. Its all about consistency and routine, training 3 times a day as well as teaching, I generally don't have time to set aside for recovery. Chris Van Dusen, CMO of CBDistillery and my teammate Gordon Ryan introduced me to the benefits CBD has in prevention and recovery. It usually takes me 2-3 seconds to take the tinctures post-training as well as the gummies an hour before I sleep. Besides stretching and gymnastics, CBD has helped me recover quickly and train smart. I chose CBDistillery because the staff went out of their way to properly educate me on how to fit CBD into my routine, giving me a long period to test each product. As a professional athlete, I need to know my supplements are rigorously tested, so I feel pretty comfortable with CBDistillery. The THC Free Tincture has helped me the most. "
GARRY'S FAVORITE PRODUCTS
FULL SPECTRUM CBD OIL TINCTURE – 1000MG – 30ML
Find quick relief with our 1000mg Full Spectrum CBD Tincture in a convenient 30ml size. Pure and natural, this tincture provides fast relief without any added chemicals or dyes. Use CBD the way you want! Mix with juice or in a smoothie, or take it orally. However you use it, our 100% natural CBD oil tincture is sure to work wonders for your overall health and well-being.