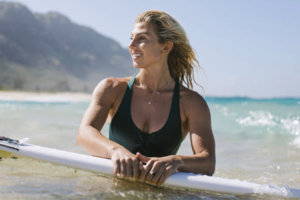 SAGE ERICKSON | PRO SURFER
Sage Erickson is a force; Strong, confident, talented, kind.
Growing up between Ojai, CA and Oahu, HI, she learned to surf at age 9 and has never stopped. At age 14, Sage won the first contest she entered and caught the competition bug. She has been a competitive surfer ever since.
Sage's personality and success in and out of the water have made her an ideal brand ambassador. Sage is as comfortable in 8 foot surf as she is in front of the cameras. As a result, Sage is a highly sought after ambassador of global brands who praise her for her professionalism and high-quality content production.
Currently, Sage is a dominant force on the WSL Women's Qualifying Series. Outside of surfing, she is passionate about fashion, photography, illustration, fitness, health and wellness.
" I admire their commitment to a high quality product at a reasonable price, especially when it comes to the benefits of CBD to support athletic recovery. "
FULL SPECTRUM CBD OIL TINCTURE – 1000MG – 30ML
Find quick relief with our 1000mg Full Spectrum CBD Tincture in a convenient 30ml size. Pure and natural, this tincture provides fast relief without any added chemicals or dyes. Use CBD the way you want! Mix with juice or in a smoothie, or take it orally. However you use it, our 100% natural CBD oil tincture is sure to work wonders for your overall health and well-being.